You can find a job 2X faster with LinkedIn premium
I'm going to show you how to maximise LinkedIn Premium to position yourself to land a fantastic career opportunity.
If you use LinkedIn Career tools you could land a job 2X as fast. This is a claim made by LinkedIn on their LinkedIn Premium signup page. (See screenshot below)
Disclaimer: This article contains affiliate links. If you purchase a product through one of them, we receive a commission at no additional cost to you.
More good news
LinkedIn gives you access to these Premium Career features when you sign up for a free trial of LinkedIn Learning.
This means that for absolutely no charge at all you could accelerate your job search and put yourself in a much better position to land your dream job!
I can't promise that you'll land a job 2X as fast as everyone else! However, I do know that those who leverage all the tools available to them are more likely to succeed.
This is what this article is all about.
I am going to show you how to use the best job search tools that a free trial of career features offers you.
The aim is to help you position yourself in the strongest possible manner, ready to land a life-changing career opportunity.
Number 10 on the list is one of my personal favourites, and one that many people don't even know exists!
You should use LinkedIn Premium for two reasons:
Firstly, use LinkedIn Premium to position yourself, your skills and your experience effectively online. This will help you attract the attention of hiring managers, recruiters and internal HR teams. 
The LinkedIn Premium features outlined below, when used effectively, can have a huge impact on your online visibility and prominence.
Secondly, use LinkedIn Premium to speed up your job search. No one wants their job search to take any longer than it absolutely needs to. 
LinkedIn has become a powerful recruitment tool with an ever-expanding reach and influence over hiring processes. 
Using LinkedIn Premium with focused effort for one single month can help to expedite your job search process.
There isn't a single silver bullet feature within LinkedIn Premium that's going to transform your job search overnight.
However, fully leveraging all the available features over the course of 30 days can have a massive overall effect.
This includes acting upon the available insights, networking and connecting with the right people and consistently improving your LinkedIn profile over time.
It's difficult to argue against the power and reach of LinkedIn when you consider recent statistics.
Just take a look at these LinkedIn statistics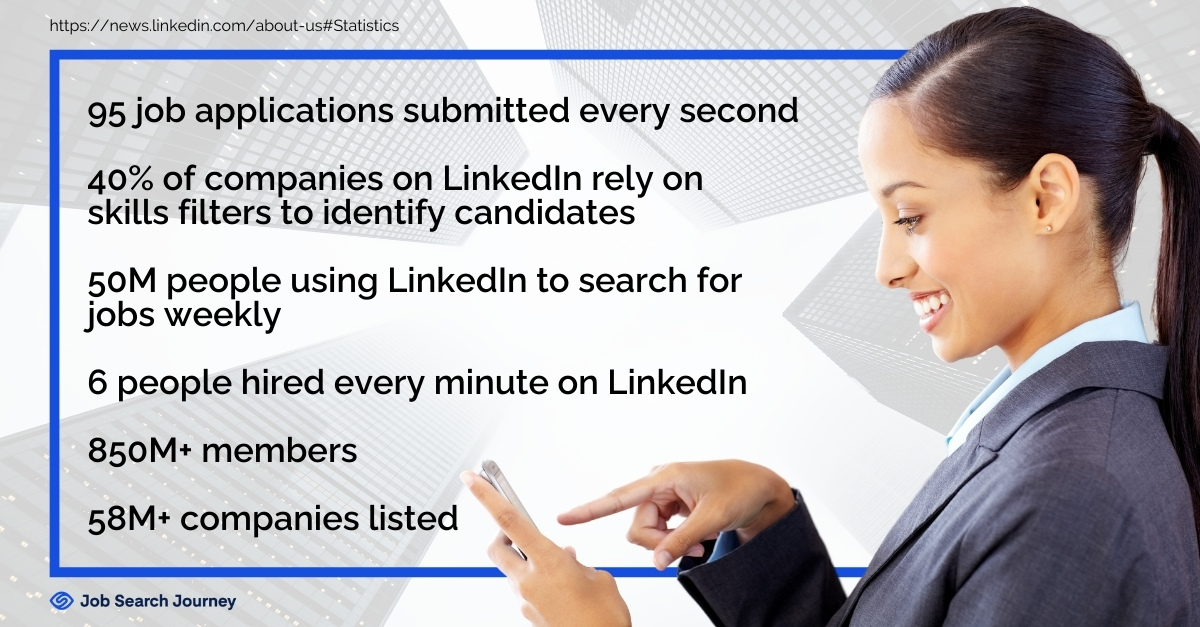 These stats come from LinkedIn and you can access the latest statistics here on the LinkedIn website.
Is a LinkedIn Premium subscription worth the money?
A subscription to LinkedIn Premium can cost roughly $39.00 a month.
The question of whether or not this is money well spent is very subjective and depends largely on your budget.
Another factor to consider is how effectively you utilise the tools available with a premium subscription.
I'm not going to try to convince you to pay for a monthly subscription, that's up to you.
I am going to urge you, however, to use the one-month free trial that LinkedIn offers to new premium users.
You can't argue that a free trial is a waste of money!
Plus, if you follow the tips laid out in this article, a one-month trial may be all that you need.
Do you need a payment method for a free trial of LinkedIn Premium?
You will need to enter a payment method to avail yourself of your free trial.
However you will not be charged providing you cancel your plan before the free trial period expires, and LinkedIn makes this very easy to do.
You can use a debit card, credit card or PayPal which makes this free trial very accessible for many people.
This is the message that I received when signing up for a free trial.
LinkedIn sends a reminder 7 days before the free trial ends, this means you can cancel before being charged for the next full month.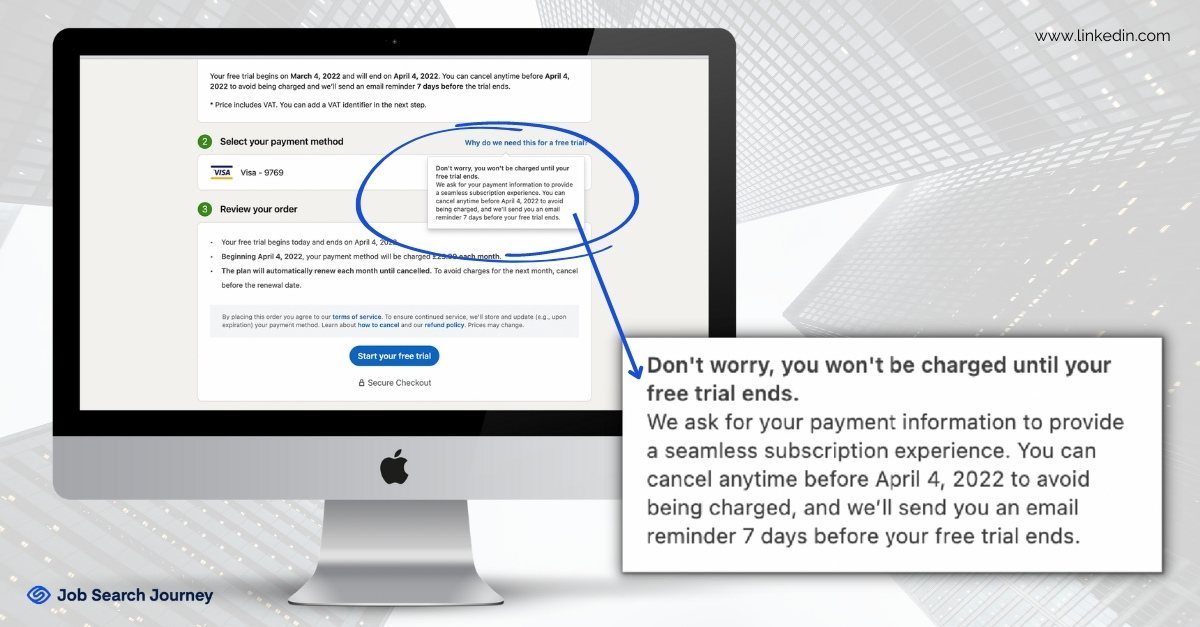 LinkedIn takes a payment method to ensure that they can charge you if you do choose to extend the use of their premium features.
As they state above, they will send you an email reminder 7 days before your free trial ends so that you can remember to cancel.
If you are concerned about forgetting you can hit the cancel button even earlier and you'll still have access to the features for the remainder of the 30 days.
How do you get a free trial of  LinkedIn Premium?
Once you have clicked on this link, you'll be asked to select a plan (I selected monthly), and you'll see that you won't be charged anything, this is because the first month is completely free.
You are under no obligation to continue with LinkedIn Premium once the free trial has ended.
Once you have completed your sign-up, you'll be emailed a receipt to confirm that you have paid nothing for the 30-day free trial of LinkedIn Premium, as well as confirmation of when your trial will end and some helpful links.
Now that you are all signed up, let's explore the 10 features that will give your job search a big boost.
Follow the steps outlined here and you'll find yourself in a much stronger position to be found and selected for great job opportunities, both now and in the future.
I have placed many great candidates into roles as a result of using LinkedIn and am therefore a great advocate for this platform. 
As we get started on this journey, please remember that LinkedIn, like any social platform, requires consistency and some hard work before it begins to yield the best results. 
10 LinkedIn features that will boost your job search
1. LinkedIn InMails

 
LinkedIn InMails are a brilliant tool for job seekers
An InMail credit allows you to directly message someone even if you are not connected with them.
Of course, this is perfect for job seekers because reaching out to recruiters or HR managers is a big part of the job search journey.
How do you send InMails on LinkedIn?
To send an InMail, visit the profile of the person you wish to contact, and simply click on 'message'.
A message box will appear, allowing you to type your message. At the bottom of the box, you'll notice that you are using an InMail and you'll be told exactly how many InMails you have remaining.
With your LinkedIn Premium free trial, you'll be given 5 free InMails
This may not sound like many, but if you use them wisely they can go a long way.
You see, if someone accepts your InMail and responds, you'll receive that InMail credit back to be used to contact someone else.
This means it's essential that you write messages that are likely to get the person's attention and prompt them to respond. 
After all, this is the whole point of contacting them right?
You can download InMail scripts here, they will help you to craft messages that are much more likely to be responded to.
Who should you contact using LinkedIn InMails?
I firstly recommend you write a list of the top 10 companies that you would love to work for.
Next, identify the person in that company that is most likely to be able to open a door for you.
This could be the GM, the leader of the department that you would work in, the HR manager or a recruitment manager.
Remember, with your LinkedIn Premium free trial, you'll have unlimited searches so you can use LinkedIn's excellent search feature to find these people.
If you are not already connected with them, use one of your InMail messages to reach out.
A well-crafted introduction message will be personal, focused on what you can offer – not what you want, and will include a call to action, e.g. can we arrange a time to speak?
LinkedIn InMail best practice
Make sure each InMail you send is personalised to the intended recipient. 
Don't simply copy and paste the same message to multiple people. It's easy to tell when this is being done. 
Also, remember to take care to spell the person's name correctly.
Keep your messages brief and get to the point in as few words as possible. No one wants to read an essay from you!
Make your subject line interesting and catchy, and make the person want to open the message to read more.
End with a call to action such as "are you open to meeting for a coffee? My treat!".
It can also be helpful to give the person a reason to opt-out. This takes the pressure off and helps to show you respect for their time. 
You can include a sentence like 'I appreciate we haven't met before and if this isn't something you can help with, I totally understand."
2. See who's viewed your LinkedIn profile

 
This is a great insight tool that can get a little overlooked.
Your LinkedIn Premium free trial will allow you to see exactly who has visited your profile in the last 90 days.
So what?
Well, if someone has viewed your profile they are likely to be interested in you and your skillset and experience.
Think of these people as warm leads. They could be recruiters who are looking for candidates 
like yourself, or hiring managers or HR professionals who are interested in what you could bring to the company.
They could also be potential connections for your network or potential customers who may require your services.
Just because they haven't messaged or connected with you yet doesn't mean that they are a dead end.
Something on your profile clearly caught their eye and you may just need to reach out and tell them a little bit more about yourself.
Insight
This tool is also helpful in another way. It gives you an indication of whether or not your profile is optimised to attract the attention of the right people.
By 'right people' I am referring to the people who could help you with your job search such as recruiters who specialise in your industry or hiring managers from your target companies.
If your profile is not attracting the right attention, you should consider rewriting your headline, changing your LinkedIn banner image or redrafting your about section.
Think about the keywords that you need to include in order to appear in the right searches.
For more guidance on how to optimise your LinkedIn profile for your job search check out this guide.
When you see who's viewed your profile, you'll have the option to connect with them, follow them, message them or InMail them.
You can do this really quickly from the dashboard enabling you to immediately follow up on warm leads.
How to see who's viewed your LinkedIn profile
You can easily access the Who Viewed My Profile section of LinkedIn.
From your desktop, simply navigate to the left-hand side of the LinkedIn home page and click on the 'Who Viewed Your Profile' link that appears directly below your LinkedIn profile picture.
To access the Who Viewed My Profile page on the LinkedIn mobile app, firstly tap your profile picture, then tap 'view profile'.
Now scroll down to the analytics section and locate the number of profile views that you've had. Click on this number to access the analytics.
Please note, if you haven't had any profile views in the last 90 days, this option will not be available to you.
3. Adjust your profile viewing options
LinkedIn Premium affords you some profile viewing options that are worth taking note of.
Your profile viewing options dictate what other people see when you view their LinkedIn profile.
Remember, you want to be found on LinkedIn so it's important that you have the correct settings in place.
‍
How to change your profile viewing options
Navigate to the 'me' icon on the top right of your profile
Select 'settings and privacy'
On the left-hand side select 'visibility'
Now select 'profile viewing options'
Click on 'change' on the far right side
LinkedIn profile viewing options explained‍
Public – name, headline, location and industry
If you want to get someone's attention, this is the mode that you should be in whilst viewing their profile.
I would advise using this mode a majority of the time whilst using LinkedIn Premium to search for a job.
If you have a great headline and your profile is optimised for your target role, why would you not want people to see you?
‍
Semi-private – either job title, company, school or industry
This semi-stealth mode is a strange option that gives the person some information about who has viewed their profile. 
They might even be able to guess that it's you. Personally, I think it's better to be totally private or be public, rather than this in between option.
‍
Private – only see that a LinkedIn member has viewed their profile
If you are doing some research into an organisation or you're using LinkedIn to prepare for a job interview and you don't want the person to know that you have been looking at their profile you can use this mode to stay incognito.
The additional benefit for LinkedIn Premium members
As a LinkedIn Premium member, you can view people's profiles in Private mode whilst still seeing who has viewed your profile.
This is something that you cannot do with a free account and is worth taking note of.
You'll be given the opportunity to select your profile viewing mode when you first access LinkedIn Premium and complete your set-up.
Just be mindful of what you're trying to achieve and select the right viewing mode accordingly.
If you want to be found, select the public mode, but if you want to conduct some undercover research, select the private mode.
4. Enable open profile mode on LinkedIn Premium
As a LinkedIn Premium member, you can turn on Open Profile.
This feature is particularly helpful when looking for a job as it allows recruiters, hiring managers, or any member of LinkedIn, to contact you.
This is a feature that you should certainly be utilising for the entire duration of your free trial.
It means that those who are interested in you, your skills and your experience, can instantly reach out and make contact, even if they are not connected to you. 
The more positive contacts that you receive during your 30 days free trial, the more likely you are to come out with some positive opportunities.
How do you enable open profile on LinkedIn?
Click on the 'me' icon in the top right
Select 'access my premium'
Choose 'premium profile settings' on the right
Turn on and off the open profile feature
Again, when you first access LinkedIn Premium you'll have the option to turn on open profile, I suggest that you do it immediately so that recruiters and hiring managers can begin to reach out to you.
5. Conduct LinkedIn searches
You should make the most of LinkedIn searches over the next 30 days.
By using LinkedIn's search tools you'll be able to find the people you should be connecting with and reaching out to.
How to make the most of your searches
Begin your search by typing a term into the search bar and hitting enter.
You'll now see some additional filters appear.
Each time you select a filter, such as jobs, the additional filters will change, providing you with more specific options.
On the far right-hand side, you'll see 'All filters' click here to see a full range of filters that will allow you to refine your search and achieve better results.
As a job seeker, use your unlimited searches and filters to find job opportunities that match your skill set.
Locate recruiters and HR professionals who recruit within your industry.
Find people within your industry and specifically within your target companies with whom you can connect in order to grow your network and reach out for advice.
The unlimited search and profile views benefit is very helpful for interview preparation.
Search for the individuals who will be interviewing you and the person to who you would be reporting to as well as other team members, (remember you can switch your profile to private mode if you want to remain anonymous) and conduct some background research.
For more advanced searches, you can also make use of LinkedIn's boolean search functions to further refine your search. You can read more about this here.
6. Access company insights on LinkedIn Premium
Another brilliant LinkedIn Premium feature, company insights, allows you to carry out some fantastic company research as part of your job search or interview preparation.
Note that you'll only be able to access company insights if the organisation has at least 30 complete member profiles.
How do you access company insights on LinkedIn Premium?
Search for the organisation by name using the search tool
Navigate to the company page
Click on 'insights' from the menu
You'll now have access to some interesting data which can be particularly helpful when preparing for an interview or putting together a presentation for an assessment. 
It can also help you assess whether the company is a good match for you.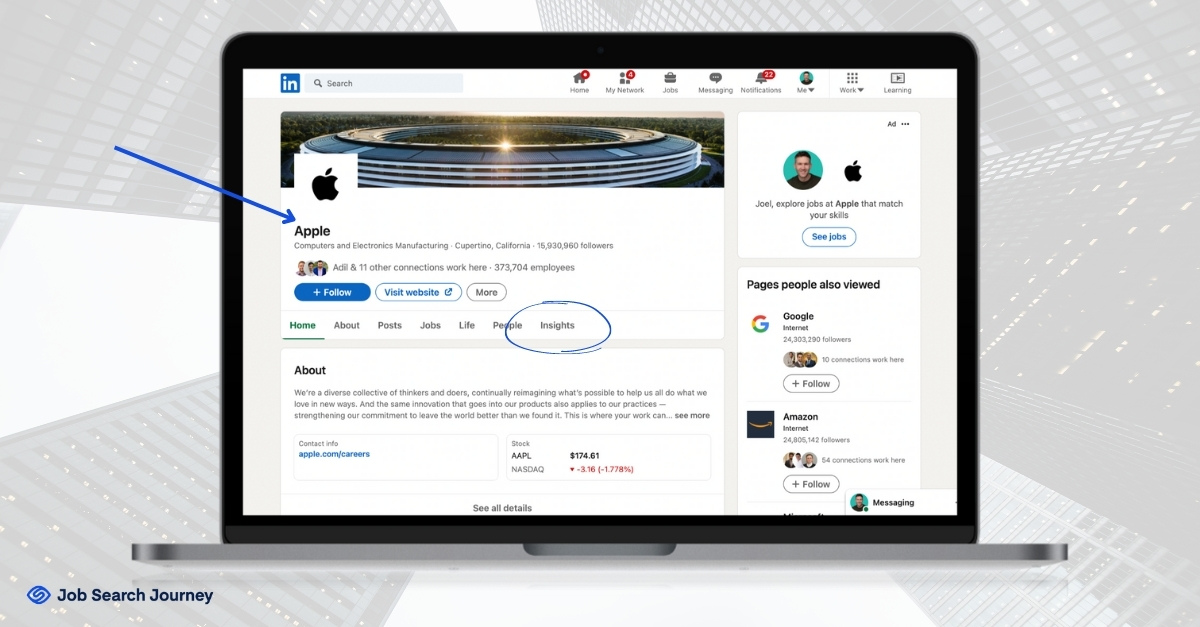 Available company insights on LinkedIn Premium include:
Total employee count
Employee distribution and headcount growth by function
Recent senior management hires
Total job openings
From the same company page, you'll also be able to apply for job openings, read recent company posts, watch videos that have been posted by the organisation, connect with current employees and access the company website.
All of this is incredibly useful when conducting background research and interview preparation.
Take as much time as you can to mine all of the helpful insights made available to you on the company page.
7. LinkedIn learning library
As part of your LinkedIn Premium free trial, you'll have access to over 16,000 quality courses.
These courses are taught by industry experts, this is a brilliant feature!
LinkedIn learning also allows you to set weekly learning goals. This is a great way of keeping your professional development on track.
If you are currently between jobs, engaging in meaningful learning and development is one of the ways you can help yourself to remain positive and focused.
It can also help you to up-skill whilst out of work, preparing you for new and better opportunities.
The LinkedIn Learning home page features a suggested courses section. Using this section will help you to discover new content that you might find interesting.
Use the search bar to search subjects that you are interested to study, from here you can save the courses that you would like to complete at a later date.
Once you complete a course on LinkedIn Learning you'll receive a certificate of completion.
With the click of a button, this can be added to and shared on your LinkedIn profile page. Doing so will alert others to the new skills that you are learning which may be of benefit to their organisation!
8. Applicant Insights
Job insights reveal just how good a match you are to a role before you go ahead and apply.
Not only this, but you will also get insight into the other applicants who have already applied for the role.
You'll see which of your listed skills are a match for the skills required by the role. You'll also see which skills you're missing and where you need to adjust.
You will also learn how you rank compared to other candidates plus the location, seniority level and education of those applicants.
Use job insights to identify advertised roles for which you are an obvious fit and therefore more likely to be interviewed for.
Using this feature will help you to identify potential gaps in your LinkedIn profile.
For example, you may have forgotten to list some sought-after skills that you possess, or the experience section of your profile may be letting you down and not reveal how great a fit you actually are for the position.
Keep evaluating and adjusting your profile until it's a perfect fit for the roles that you are targeting.
9. Keyword insight for your resume
LinkedIn Premium offers a resume-building function which will provide you with some very valuable keyword insight.
Simply by entering your target role and selecting the nearest match from the dropdown menu, you'll be presented with a list of keywords that should feature in both your resume and your LinkedIn profile.
Adding the right keywords to your profile will cause you to show up in searches when recruiters and hiring managers look for candidates for your chosen role. 
You don't need to actually use the resume builder tool to complete your resume.
Instead, take the keywords insight and apply it to your existing document.
If you need an ATS-friendly resume template, click here.
How to access the LinkedIn keywords feature
Access this feature, click on the 'jobs' tab, then 'resume builder' and select 'create from profile'.
You'll now be prompted to enter your target role.
Once you do this you'll be presented with a list of relevant keywords that are already in your profile, plus a list that you should consider adding.
Of course, you should only add keywords that are relevant. These should be added within the context of your work history and qualifications.
Don't force keywords into your LinkedIn profile or resume. You should also avoid simply listing them, and make sure that they appear naturally and within context.
After you have completed this exercise, keep an eye on your profile views over the following days to check that you are getting more relevant profile views.
More relevant profile views are those from the people you wish to connect with.
10. Interview preparation tool
When it comes to interview preparation, LinkedIn is by far one of the most useful tools in the market.
LinkedIn's impressive reach makes it easy to research the company to which you are applying.
You will likely have access to the company's business page where you can watch their videos, read their posts and you can even view the profiles of past and present employees.
One of the most useful pieces of interview preparation you can do involves examining the LinkedIn pages of the people with whom you'll be interviewing.
LinkedIn profiles hold a wealth of useful information and insight which can help you when preparing to meet your interviewers.
We have a whole guide available on using LinkedIn to prepare for an interview which you can download right here.
As a LinkedIn Premium member you'll also have access to many interview preparation materials and tools.
How to access the LinkedIn interview preparation feature
Begin by clicking on the 'jobs' tab at the top and then select 'interview prep'.
On the left-hand side is a list of common interview questions.  Clicking on categories will give you access to industry and job-specific questions.
On the right-hand side you'll now have an overview of the question, an answer framework and tips.
LinkedIn Premium members also have access to sample interview answers that have been written by experts. This is a fantastic way to prepare for tricky interview questions such as tell me about yourself or why do you want to work here?
Click on the 'practice and get feedback' button to record your practice answer and get AI-powered feedback on your interview answers.
All in all, LinkedIn Premium is a must-have tool for interview preparation and all this can be accessed completely free of charge for 30 whole days when you make the most of the free trial.
In conclusion
In recent years the team at LinkedIn have made a concerted effort to get behind job seekers. LinkedIn continues releasing more tools aimed at making the job search process easier.
This is not an exhaustive list of the features that LinkedIn offers.
You can also access salary insights, add an out-of-office to your mailbox, add the LinkedIn premium badge to your LinkedIn profile picture and more.
As a former recruiter, it's hard to imagine a world without LinkedIn. This professional network has truly become the tool of choice for recruitment agents and HR teams the world over.
As a job seeker, or indeed any career-minded professional, having an up-to-date and optimised LinkedIn profile is essential.
I believe that a free trial of LinkedIn Premium along with the benefit of LinkedIn Learning is a gift to job seekers today!