If you want to land a job interview you need to demonstrate that you are qualified for the role.
Whether submitting your resume written from a resume template or a resume writer like me, to a job board or to a referral or if you're looking to get found by a recruiter or hiring manager on LinkedIn, this gets accomplished by showing them that your skills align closely with those needed to do the job.
In other words, it pays to match. When I write for my clients, there is one method and three tools I use to ensure the skills featured in the resumes and LinkedIn profiles I write closely align with the job target.
Here's an overview:
Manual Job Posting Review & Analysis 
Before I get started writing, I ask every client for a handful of job postings of interest. Regardless of length, most include 4 key sections that 1) detail company info, 2) share a bit about the role, 3) list desired/preferred/required candidate requirements and 4) include directions for submission.
Section #3 is where I pay the closest attention because this is where the "hidden treasure" often lies to ensure skills matching.
Below is a cut and paste of this section for a Medical Device Sales role on a leading job board. A brief review reveals the skills (highlighted in yellow) that should be featured throughout the resume and LinkedIn profile to ensure readers see a close match:
Requirements:
4-5 years in Medical Device Sales
Experience in GI, Bariatric, or Laparoscopic/Surgical
BA/BS degree or equivalent work experience
Must have exceptional clinical knowledge in general surgery, bariatric surgery, therapeutic endoscopy, gastroenterology and/or urological procedures
Once identified, I make sure to weave these skills throughout the resume into the summary section, throughout the job experience and as part of a skills section directly below the summary section. When writing the LinkedIn profile, I make sure to include these in the "Skills and Endorsement" section and work to weave them into the headline at the top.
Where applicable, I'll also add them within parenthesis to the job titles (LinkedIn gives you 100 characters to play with here)!
Here's an example of one that comes in at 99 characters: Account Executive (GI Medical Device Sales – General/Bariatric Surgery, Endoscopy/Gastroenterology)
Jobscan Resume Scanner and LinkedIn Optimizer
Jobscan offers two tools I've used to maximize skills and keyword matching, one to scan your resume and another to scan your LinkedIn profile.
When it comes to resume review, their website notes they reverse-engineered top ATS systems and studied recruiter workflows – and used these findings to build the algorithm from which it evaluates resumes against proven recruiter preferences, curated keywords and requirements.
With LinkedIn, it scores the profile on keywords, content in your headline, summary and work experience and other completed fields.
According to the site, whether written via a template or by a resume writer, Jobscan users see a 132% increase in profile views and show up 3X more in searches.
Once scanned, the site scores your documents by evaluating keywords as well as hard and soft skills and provides suggestions on how best to boost it.
Jobscan allows you to scan 2X monthly free of charge and offer unlimited scans for monthly fees ($30-$50 depending on which plan you choose).
LinkedIn Resume Builder
I also use LinkedIn's Resume Builder for skills/keyword matching, which can be accessed from your profile page by clicking on "more."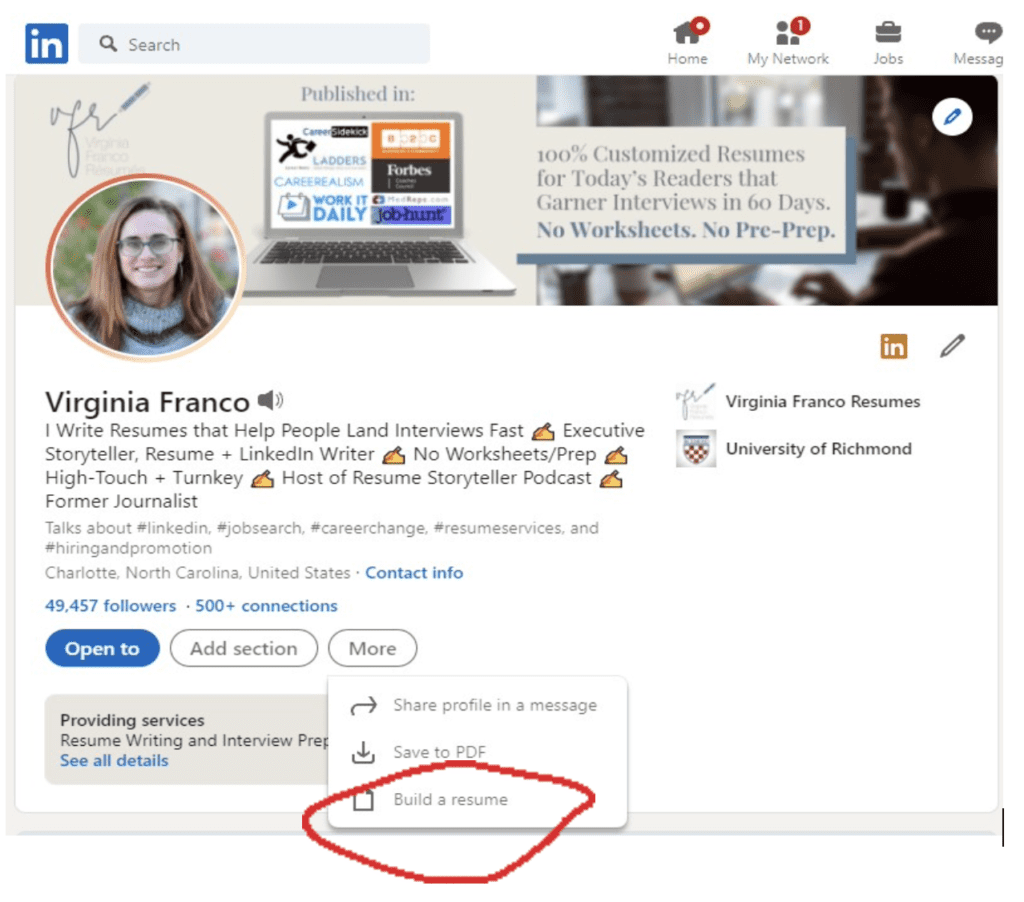 The site will walk you through a few prompts during which you select a job target and have the site match your skills against those included in its database. Here are the results of a search I did matching my LinkedIn profile against a "sales specialist" job target.
What I appreciate about this tool is that because the keywords come directly from LinkedIn, your chances of a strong match on the platform are strong. A downside, though, is that those who have a free account won't see nearly as many keywords listed as those who pay the monthly price for premium membership.
Matching that Yields High ROI 
With so many testing the waters or looking to join the ranks of the "great resignation," I'm seeing a job search landscape that is more competitive than ever, and where it makes sense to take advantage of every tool at your disposal.
Against a sea of candidates, your best bet at getting found during talent searches is to show alignment – which can be accomplished by matching as many skills as possible with the keywords on your resume and LinkedIn.
Tools offered by Jobscan and LinkedIn, together with a bit of DIY research and analysis – can make all the difference whether your resume is written professionally, using a resume template or completely DIY.