Winning the SNL tickets lottery is a lot like landing a dream job
I'm going to share with you the story of how I won tickets for SNL. I'm also going to share how this relates to landing your dream job…stay with me!
"If I don't laugh, I might cry" has been my unofficial mantra for the past two years as I've navigated the pandemic.
Like many people, I've had to adjust literally every aspect of my life over the past 20 months. Instead of stopping to think about everything that I've lost, I've self-medicated with comedy.
I've watched just about every Netflix Original Comedy Special, up-in-coming stand-up comedians on YouTube… and of course SNL (Saturday Night Live).
I'm an SNL fan
I've always been a fan of SNL. Mondays at the lunch table in high school were spent recapping and impersonating our favorite SNL skits from the weekend before.
From Molly Shannon's St. Monica High School Auditions to Will Farrell as a Spartan Cheerleader, the show has grown with me over the last 25 years.
Winning tickets for SNL and being in that audience has been on my bucket list for a long time, but to be honest, I didn't think it would ever be a reality.
From what I've read on Reddit boards, the SNL ticket lottery odds are stacked against you. You are literally competing with hundreds of thousands of entries for under 2,000 SNL tickets.
I won SNL tickets!
But by some miracle, I won the SNL ticket lottery! 
There's something you need to know about me, I'm a job search coach. I think about everything in life from the lens of job searching.
I'm the kind of person that can drive through the pick-up line at Starbucks and think of a job search analogy. It's just the way I'm wired.
But the similarities between winning tickets for SNL and landing a dream job are striking. 
When does the SNL ticket lottery open?
SNL ticket applications open on August 1st. Saturday Night Live distributes tickets through a lottery, and they only allow entries one month out of the year.
SNL ticket lottery email
Per the instructions on the NBC website, to enter you must send an email to snltickets@nbcuni.com while the lottery is open.
Remember, submissions for the SNL lottery sent before or after will not be accepted.
Even though the SNL lottery was open for a full month, I applied on August 1st.  I don't know that the time stamp mattered,  but speaking as a former corporate recruiter, I know that it can make a difference when applying for jobs online.
I applied the same logic and because I wanted to make sure that the selection group was not experiencing application fatigue when they read mine.

The SNL tickets lottery is not random
This year was not my first time applying to be in the SNL audience. The last time I applied, I assumed guest selection was based on a random lottery.
I did not spend a lot of time on my application because I didn't think it mattered.
This time around, I knew I had to step up my SNL application game
The online application asks fans to answer one question in an essay format. The question this year was, "Please tell us why YOU would like to be a part of our studio audience!".
My SNL tickets Email tips
Similar to writing a cover letter for a job application where the best cover letters are personalized and make a connection to the reader, I wrote a Buzzfeed-worthy article titled, "5 reasons why I want to be a guest on SNL."
I knew a generic submission would not get the attention of the ticket selection team.
If you want to win tickets, my best advice to you is to take the application process seriously. I talked to other "ticket winners" at the taping and found that most wrote essays.
I tell job seekers all of the time: "Different is better than better" – think of ways to differentiate yourself from your competition in the lottery.
Don't be boring with your application.
Winning the SNL tickets lottery
After I applied, I didn't think much about it. It wasn't that I forgot that I applied, but I knew my chances of winning SNL tickets were really slim.
So to say that I was surprised when I got an email on November 5th informing me that I was selected is an understatement.
I thought it wasn't real.  I read it three or four times and finally came to the conclusion that they weren't asking for money, and the email address seemed legit.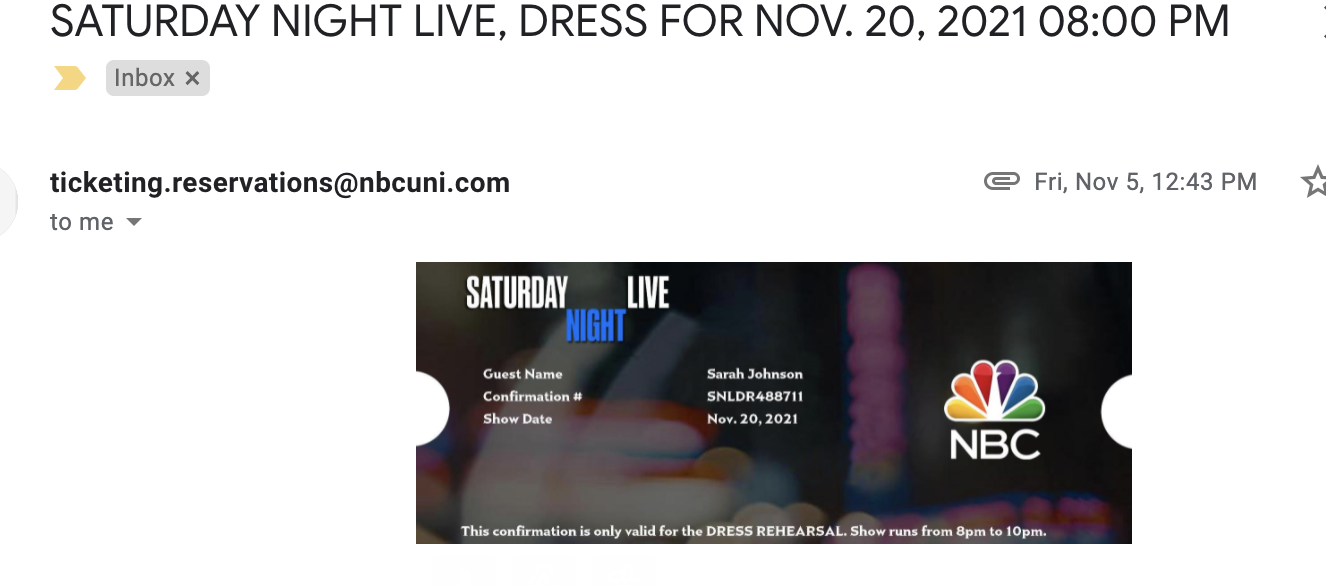 Accepting your SNL tickets
I had 24 hours to respond that I wanted to accept the tickets. This reminded me of a time I got invited by a recruiter to interview for a job opportunity 8-hours away; I needed to commit to the opportunity before figuring out any of the details.
Who's the SNL host tonight?
"Yes! I will be there." I replied. "Can you share any information about the host or musical guest?"
"You can check SNL socials for information about the host and musical guest."
Over on Instagram, I scrolled to see the future lineup.
November 6th: Ed Sheeran
November 13th: Taylor Swift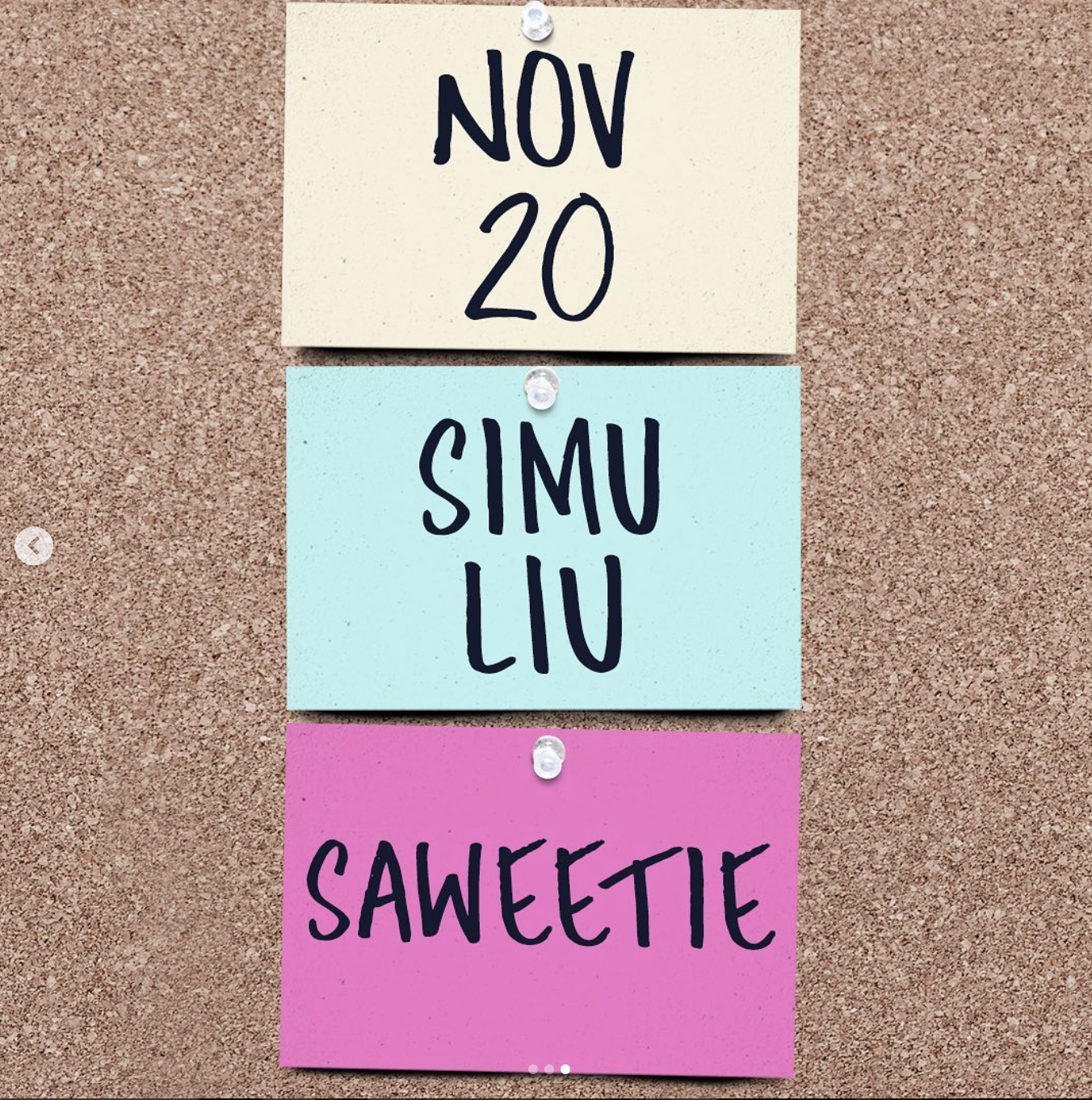 Who was the SNL guest on my week?
Simi Liu and Saweetie
I'll admit… I had no clue who they were.
But I embraced the "when in Rome" mentality and decided that I should know their origin stories and their IMDb history before the big night.
Paralleling job searching, as a career coach, I advise my clients to read about the hiring manager before the interview and listen to any videos or podcasts.
I did the same for Saweetie and Simi Liu.
How to dress for SNL
My sister-in-law is a big fan of SNL as well and got to be my plus-one for the event.  The ticket we received said, "remember, you could be on camera!  We reserve the right to deny entry to anyone dressed inappropriately." We had heard from reading Reddit boards that sometimes the way that you dress impacts where you get seated. I wore a muted blue sweater and sparkly earrings and my sister-in-law wore a black dress with a subtle sparkle.
What did other SNL guests wear?
Females:
Lace black dress and drop earrings
Sweater dress with knee-high black leather boots
Sweater poncho over the faux leather Spanx and black booties
Males:
Jeans with a blazer
Khaki pants with a layered button-down and Patagonia vest
Nice slacks with a sweater
What time should you arrive for SNL?
We arrived at Rockefeller Center very early. Too early, to be honest.
I wrongly assumed that we would be able to have a drink at the "Top of the Rock" before the show. It was closed, and so were many of the food court restaurants. The landmark Rockefeller Center building is currently under construction, and other than an Amazon To-Go, a Potbelly Sandwich Shop, and an upscale chocolatier, our options were limited.
Like a job interview, don't arrive any earlier than 30-minutes before check-in.
My ticket confirmation letter instructed me to "proceed to the Grand Stair and present this letter of confirmation."
I also wrongly assumed that your order in line to enter security for the event influenced where you got seated. Instead, it's much more complex. I chatted with several people in line and in the lounge, and I still have no idea how they do it.
Once we went up the Grand Stairs, we stood in a security line. In the line, we had to present our event tickets, photo ID, and proof of Covid vaccination. We were required to keep our face masks on the entire time.
SNL tickets: people are the decision-makers
In the line, we were given a wristband and a paper event ticket. The NBC page wrote the letter "C" on my ticket, and I was told I needed to present it later in the evening. Other "friends in line" were given letters or Roman Numerals.
There were probably 10-15 NBC pages working the event and another 15 event staff helping usher in the audience. The NBC team engaged in conversation with us while we waited.
Everyone working was easy to connect with and so nice. During that time, what I presume was the head page, "Topher," gave us a quick run-down of the rules for the evening.
SNL rules
No cell phones were allowed in the studio. If you take your phone out and take a picture, the image will be deleted from your phone, and you will be escorted out.

No bathroom breaks are allowed during taping. If you need to use the restroom, use it before the event

Masks need to be worn at all times.
After listening to the run of the rules, I entered another security/check-in line. It was during this time that one of the event workers came up to me and swapped out my wristband.
At this point, I don't know what the new wristband means, but I only assumed it was a good thing.
How to get your SNL tickets upgraded to VIP
Humble brag: My SIL and I were given VIP/ground floor access.
I'm convinced the only reason that we got this wristband was that we were friendly and nice to people in line.
If you want to be in with a chance of getting your Saturday Night Live tickets upgraded, make conversation and treat people well.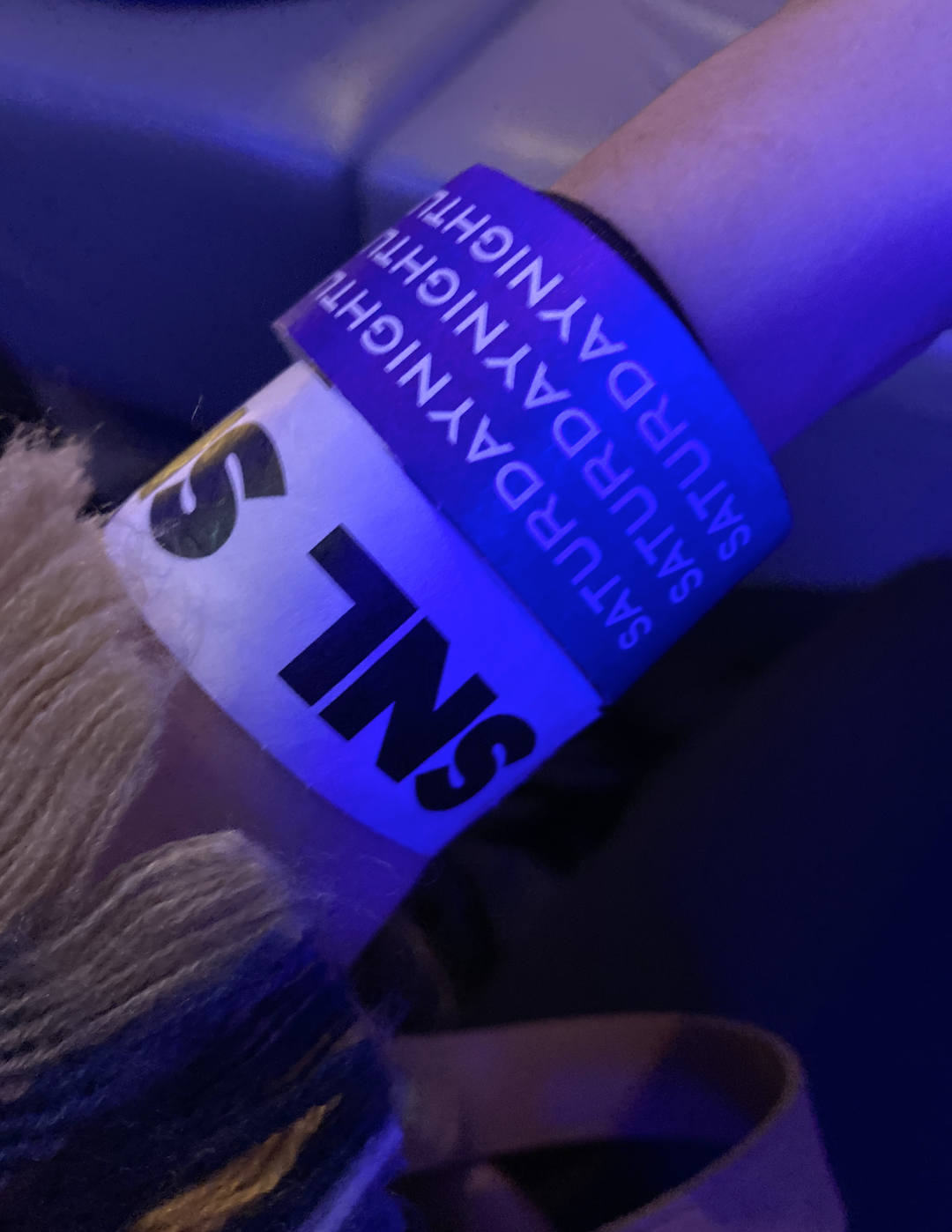 In job searching, the same is true: people hire people. It's not the applicant tracking system or the "ATS-bots".  Decision-making comes from individuals. The more you can connect and be memorable, the more likely it is that you will get moved to the proverbial front of the line.
What is it like being in the Saturday Night Live audience?
I, unfortunately, have no proof that I was in the SNL audience because I didn't get to take any pictures.  
But I was there. You have to trust me on this. I sat right under the iconic SNL stage clock, just five feet away from all of the action.
It was even more fun and amazing in person than watching it from my living room couch. Keenan Thompson is a showman, Chloe Fineman is ridiculously talented, and Simi Liu is just as likeable in person as he is on the stage.
The coolest part of the experience is seeing how everyone and everything works together to produce a live performance. Some cast members literally have "handlers" who hold their hands between sets and drag them to where they need to be.
Everything in the room is labelled with masking or duct tape.
I can say it truly was "worth the wait" to go. Enter the lottery and shoot your shot. It's an amazing experience!
And hey, if you are going to apply for your dream job, use Job Search Journey to help you from application to offer.