Holiday Job Search: Benefits, Cautions, and Resources to Help!
The holidays are traditionally about taking time to celebrate. Yet, executing a job search or remaining active in a job search during this time of year has its benefits.
Often, people make the mistake of avoiding job search strategies over the holidays. They assume that other job seekers, recruiters, and employers are doing the same. This isn't true. With the 2021 fall season being deemed a hot job market there are plenty of jobs that need to be filled and lots of companies searching for employees!
I took the question of job searching over the holidays to LinkedIn in the form of a poll. Here are the results: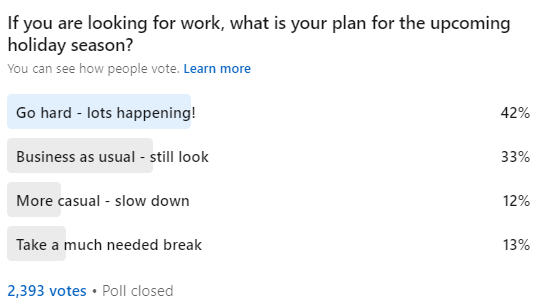 The majority of voters agree that they will continue to go hard or at least remain steady in their search efforts. If you read the comments, many recruiters and professionals weigh in with additional benefits – and cautions – for consideration.
Holiday Job Search – Expert Tips
I asked a few of Job Search Journey's expert career sellers to share their holiday job search insights and ideas. Each expert agrees that remaining active in a search is important. Yet, not as important as mental health or taking time to enjoy the season.
Erica Reckamp, a resume writer and job search strategist, stresses that this holiday season you can "give yourself the best holiday gift — the peace of mind you gain from securing actionable leads (and possibly even offers!) Reasons to search over the holidays: 1) less competition, 2) budgets timing out, and 3) many people are in a generous mood!
However, Erica also wants job seekers to know that they should reconsider a job search if self-work is still required.
Angela Watts, a former recruiter and resume writer agrees that there is a competitive advantage to remaining diligent in your search over the holidays, but she also warns that job search is stressful and if you need time to rest this holiday season – do so! "No job is worth your mental health. Do you need a few weeks to focus on your family and take a break? If so, the holidays can be a good time to relax and avoid job search burnout."
She continues with: "If you do take a break, it's a great idea to have your target employer list and job search documents ready, so you can hit the ground running as we ring in 2022."
Hannah Mason, former recruiter, interview coach and CV writer, states that "it's important to allocate time for job search activities and to set clear boundaries…whilst I don't recommend putting the job search completely on hold, it's essential that it doesn't take over your enjoyment of the holiday season."
Holiday Job Search – Key Strategies
When asked about a key strategy not to be forgotten this holiday season, Angela suggests that job seekers remain diligent in their follow-up: "Keeping your name, interest and value front and center can ensure you aren't lost in their break from routine. Even if they aren't ready to proceed until after the holidays, you can stay on their mind."
Erica agrees: "follow up for the win! Many job seekers allow leads to go cold by neglecting to follow up. Explore varying channels of outreach — phone, email, handwritten card, commenting on LinkedIn posts, etc. to remain top of mind. Some candidates are fielding multiple offers and leaving shortly after accepting a role for an even better offer. If you stay in touch, you could be a top contender for an even stronger offer."
Hannah says that "whilst there are often fewer roles advertised in the holiday season, there are also far fewer people applying. That means that if there is a suitable role available, you are likely to face less competition. As a recruiter, I certainly hired for roles through December. It was the candidates that were still active that landed the offers!"
Holiday Job Search Benefits
In addition to the abundance of seasonal jobs that appear this time of year (which can act as a springboard into other opportunities), here are two additional ways that a job search during the holidays can help:
Competition may be less intense as many job seekers take 'time off' from their search. Take advantage of lulls by continuing to apply to open roles.  Work to get your resume seen – first.  An organization may desperately want to fill a role before the new year commences or a year-end budget closes.
Opportunities to connect typically increase this time of year and you can network and spread the word about your search and career requirements. Schedule plenty of time to attend events (if possible in your region), both personal and professional. Mingle with a variety of people (even virtually). You never know who may offer a lead or an opportunity. Referrals are also a great way to improve search success.
Even if you don't locate many opportunities, the holidays are an excellent time to prepare for the upcoming peak in recruitment. This peak starts when everyone returns to work in January – one of the busiest, and often most competitive, search times of the year.
A post by CNBC News shares that "hiring increases 30 percent in the first month of the year."
Solicit the help of career professionals, get career tools updated, and put a modern action plan into place for the upcoming year. Avoid being caught unprepared (or slow out of the starting gate) when great opportunities get posted in January.
Final Thoughts & Resources
Erica wants to remind job seekers that the "holidays are a wonderful time to explore beyond your traditional network — volunteer opportunities abound with new connections!! Consider food pantry, soup kitchens, coordinating a local giving tree, or even serving onsite during community events if you're available."
Angela wants job seekers to remember what matters this time of year: "Don't forget to focus on what matters most. Job search is a temporary activity. Your family, friends and colleagues will be a consistent presence. It's important to reserve some energy, time and consideration for the important people in your life."
Hannah stresses that "the market is particularly active right now and I expect this may lead to even more hiring this holiday season compared to previous years."
If you are looking for job search resources to give your holiday job search a boost, here are several:
Finding Your Fit Guide walks you through 6 key areas of employment "fit" and teaches you how to research, ask questions and evaluate your level of fit with a potential employer. Don't just make a career move, make the right move!
Finding Numbers for Your Accomplishments" can help ensure your LinkedIn profile sparks fruitful conversations when people research you online after meeting at a holiday event!
The Job Search Essentials Bundle includes some great resources for the holiday season. In addition, Templates for Contacting Hiring Managers and Recruiters will help you to continue networking through the holidays.
Go check out these amazing resources above and more on our site: www.jobsearchjourney.com . And finally, our resources make a great gift! Consider gifting a digital resource from our site to a job seeker in your life this holiday season.